Snow Plows
If you are looking to have your truck outfitted with a quality snow plow, or if you would like your whole fleet set up - give us a call.
We work with BOSS Snowplows and SnowEx equipment.
BOSS Snowplows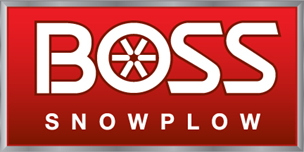 BOSS began manufacturing snow plow in Iron Mountain, MI in 1985. In the early years, the company was focused on taking a revolutionary and untested product design and improving it to meet the quality and durability expectations of the commercial snow removal professional.
Today, BOSS is a leader in the snow and ice management business with a growing line up of plows for trucks, UTVs, and ATVs, salt and sand spreaders and box plows built for the snow and ice management professional, as well as the homeowner. All products are designed for ease of use, quality and durability. With a market competitive warranty, uncompromising quality and high level of craftsmanship, BOSS has grown to be a leader in the sale of truck plows.
With distributors in the United States, Canada and International markets, BOSS is recognized for its reliability, innovation, and performance-pillars. Those pillars drive the company as it continues to advance the production process for which all products are designed, tested and built.
For more in BOSS Snowplows, including their lineups - visit the BOSS website.
SnowEx Snowplows

Since 1997, SnowEx® – a brand of TrynEx International – has established a tradition of innovation, introducing many of the industry's most productive and popular ice control products. Headquartered in a state-of-the-art facility in Madison Heights, Michigan, SnowEx offers the most extensive line of sand/salt spreaders and brine sprayers, as well as an array of related equipment. In 2015, the company expanded its product portfolio when it launched a full line of snow plows, ranging from commercial-duty plows to personal-use plows.
For more on SnowEx - visit their website.
For more information or to make a purchase
Contact Us
We also service and install Snow Plow Systems as well as spreaders.